By Sarah Khan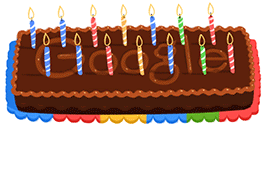 Today, Google celebrates fourteen successful years and we're wondering how we ever lived without the world's largest online search engine at our fingertips!
Founded by Larry Page and Sergey Brin on in 1998, Google has become the number one resource for web searches in the whole world, making good on their mission statement to "organize the world's information and make it universally accessible." In addition to web searches, Google also has grown to provide email services, social networking, web browsers as well as products such as the Android mobile operating system.
Google celebrates its birthday with a little birthday cake doodle, complete with candles, on the site's homepage. In honour of Google's birthday and their beloved and often exceptional doodles, here's a list of our five favourite Google doodles of all time:
5) Google celebrates Robert Moog, who created the Moog synthesizer. We dare you to not have fun making up groovy tunes, Moog music or even just silly noises on the interactive Moog synthesizer doodle!
4) To celebrate and honour Gumby creator Art Clokey on his 90th birthday, Google created this interactive doodle that begins with little balls of clay which turn into some of Clokey's most beloved clay-mation characters when you click them!
3) For the 2012 Summer Olympics, there was a different Google doodle for each event and some were even interactive (our personal favourite was the hurdle jumper). You can see them all here and even play with the interactive ones!
2) For Charlie Chaplin's 122nd birthday, the Google Doodle team made and starred in a silent short film similar to the ones for which Chaplin is famous. Check it out and just try and control your giggles!
1) Google celebrates Pac-Man's 30th anniversary with the interactive Pac-Man doodle! The ghosts, the cherries and the arcade music are all there, but be careful: once you start playing, you're likely to lose a few hours!